Inner Space is a Mental Health Center
We specialize in combining western counseling and psychotherapy models with eastern wellness practices like mindfulness and meditation, creating personalized and effective mental health plans. For individuals, we apply this to personal difficulties through one on one counseling and psychotherapy. For organizations, we help embed core mental health practices within the organization's culture to create maximum impact.
Online Counseling & Therapy
We invite you to address your emotional difficulties in a safe space with the help of a qualified therapist through counseling and psychotherapy.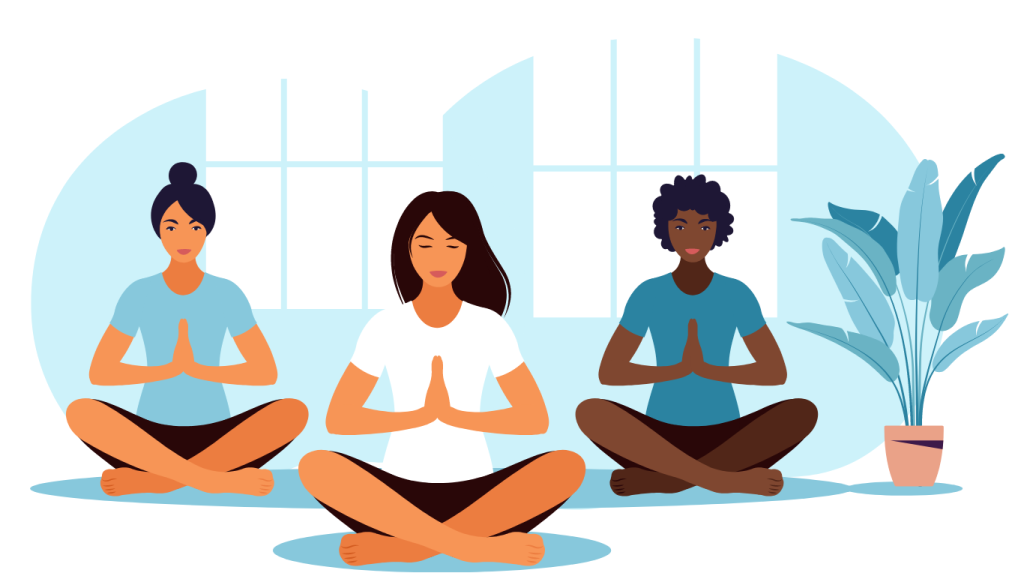 Our mindfulness courses are rooted in best mental health practices of self-awareness, helping you to be a friend to yourself.
Training for Organizations
We bring mental health to organizations through a host of online and onsite programs helping create a culture of mindfulness and wellbeing.
Schedule of our Mindfulness Courses in 2023
Clients of our Past Programs
You Are Simply Perfect!

A Mindfulness & Self-Awareness
Guide for Teens and Tweens

By Sadia Saeed
What our Clients say about us
Gitali Chatterji
Psychologist
"This is the place where I found my peace. There was a time when I was in a bad space, with depression & anxiety. I really thought there was no way round until I started attending my sessions here at Inner Space counseling with Geetali ma'am. I am now at a point whereI can take care of myself. This place makes you truly independent." - M.B
Sadia Saeed
Founder, Mindfulness Trainer & Psychologist
"I've had the privilege of receiving therapy from Sadia (founder of Inner Space) for over five years, and the only words I can share are, simply, that I owe her my life." –Robin C
Simran Sharma
Psychologist
My sessions with Simran helped me gain more clarity on my thoughts and showed me a different perspective. These few weeks interacting with her encouraged me to believe in myself and embrace every small instance of my day-to-day activity. She assisted me with building my self-confidence and staying positive in every situation. –R.S
Shubhra B Sarvaiya
Mindfulness Trainer & Psychologist
"Through therapy, Shubhra has shown me a way to live in my body that I didn't know was possible. Shubhra taught me through somatic therapy or exercises on how to process trauma and reconnect to my body safely. I've learned how to monitor my nervous system to understand how I'm feeling and then consciously calm myself using love and care instead of negative coping mechanisms. She is patient and compassionate while being proactive and constructively challenging when she needs to be. She creates a safe space while engaging in the therapy, comes highly recommended and anyone would be blessed or lucky to work with her." - Rachel
Firdaus Moraes
Psychologist
I started consulting with Firdaus when I was in a very broken state of mind due to various reasons. In Firdaus, I not only found a compassionate ear but also practical strategies to help me deal with my anxiety driven behaviours and coping mechanisms. I've been given the tools to understand the things I need to work on in myself before I expect to see any real change in life. This has been an invaluable insight to me and one that I cannot thank her enough for. She's a very capable therapist and I've become a much more aware person thanks to her -A.I
Sanjeev Choithani
Psychologist
"His technique is to guide us to see the picture and the road ahead, on our own, rather than impose his views. He is a good, patient counselor." -V.S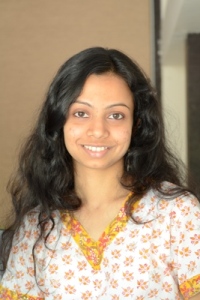 Malini Krishnan
Mindfulness Trainer & Psychologist
"Inner space is the stage where I can explore myself. I have been doing therapy with Malini for several years now, she really helped me in many ways: Now I see myself in a better position than I was." -S.K
Gitali Chatterji
Psychologist
"I'll be forever grateful to my therapist from Inner Space who has helped me turn my life around. Sessions with her and the space that Inner Space has created, helped me understand what it means to be in a safe space, be at peace with myself in order to explore and learn." - A.R
Sadia Saeed
Founder, Mindfulness Trainer & Psychologist
"I am able to review this place publicly without the shame of admitting that I go for therapy because of Inner Space! Sadia's aura is beautiful and her passion is infectious. Her team imbibes the values that she believes in, with grace. I have already recommended and will keep recommending this place to anyone who is suffering."-S.P
Sanjeev Choithani
Psychologist
"We have completed 5 sessions of marital counseling with Sanjeev, and have already started observing some positive results. I really like the way he conducts the sessions; he makes us feel really comfortable." –P.S
Gitali Chatterji
Psychologist
"We need more Mental Health spaces like this. The peaceful environment and the relaxing music are wonderful but the best part is of course your therapist. My sessions with Gitali have been life changing. The things I have learned in therapy have become lifelong tools. I recommend therapy to everyone." - U.P
Sanjeev Choithani
Psychologist
"It has been a great experience talking to Sanjeev. He has helped understand my issues better and allowed me to deal with my emotions more effectively. He has taught me how to be mindful of ongoing thoughts and how to control my reactions to them. He is understanding, supportive and has definitely been very helpful to me." –J.G
Sadia Saeed
Founder, Mindfulness Trainer & Psychologist
"Sadia di and some of the therapists at Innerspace have worked with the girls of Kranti very closely, sensitive to our backgrounds and compassionate towards our experiences. Many of the girls at Kranti have found trust and refuge in Innerspace's therapy." - S.K. ( Shweta )
FAQs on Therapy & Mindfulness
Mindfulness is about paying attention to what is happening in the present. Even if an emotion belongs to a situation from the past or the future, its energy is always felt in the present. For example, the emotion may be a sense of fear about the future or a sense of anger at someone who has harmed us in the past. The emotional energy is however, always being felt in the here and now. The fear or anger is part of our experience right now. Often we deal with this emotion by getting into the narrative or the story of the situation. That is rarely helpful. The narrative often only worsens the emotion or maybe shuts it down briefly due to rationalization, however the emotional energy is not dealt with. Mindfulness practices train a person to bring wise and compassionate attention to the emotional energy that is present right now and to learn to stay with it. It also helps a person to deal with the body sensations that are associated with the emotion and therefore helps to deeply process the emotion instead of simply rationalizing it away.
Our therapeutic approach is fundamentally holistic. Our therapists don't only want to help their clients resolve the present difficulties but provide them with insights and coping strategies that will help them with future difficulties. Our intention is that our clients become emotionally resilient and over time need therapy less and less. That they are able to find joy and meaning in their lives and cope with the stresses that are an inevitable part of life. In order to provide such wholesome therapy we use an eclectic approach that is customized to what an individual client needs. Our core approaches are client-centered therapy, cognitive behavioural therapy, mindfulness-based therapy and somatic psychotherapy.
Most mental health issues arise out of an unhelpful ways of thinking, feeling, unhealthy beliefs or actions that are result of our learnings from our past, our life situations, our role models, how powerful or powerless we felt, our trauma and so on, as well as a genetic, family history and bodily disposition towards mental health issues. Mental health difficulties may take the form of depression, anxiety, eating disorders, sleeplessness, addiction, relationship issues and many others and range from severe to mild. In most of these conditions, over time unhelpful messages are given to the body by the brain, things are perceived through a biased filter by the brain, similar neurotransmitters are increased or decreased and slowly the symptoms join together to become a disorder or a habitual wiring pattern in the nervous system. Now the brain works on its own and even if we do not want to have certain thoughts or feelings, we continue to do so, even if we do not want to binge eat or give in to our addictions, there is an internal push. It feels like all this is out of our control. 
Mindfulness can help to change this habitual wiring. This is due to one feature of the brain called neuroplasticity. The brain is always changing and learning. Just as overtime it has learned unhelpful patterns, with mindfulness, focus and meditation it can learn different and more helpful patterns. However, just as it has taken time to learn such unhelpful patterns and to develop into a mental health condition, so it will take time to learn a new pattern to get out of the mental health condition. Some improvement in symptoms is rather quick and can be seen even in a few weeks of regular mindfulness practice. However, complete resolution may take time. Also mindfulness meditation is ideal for mild to moderate mental health conditions. Severe conditions, where self-harm or extreme symptoms are involved, may need a combination of medication and psychotherapy as a treatment of choice. Even in severe situations, mindfulness may eventually be introduced when medication and therapy have helped stabilize the individual. In such cases mindfulness is beneficial for long term recovery as it involves changing the way one relates to one's thoughts, feelings, beliefs and emotions.
Glimpse of our Mindfulness Courses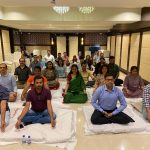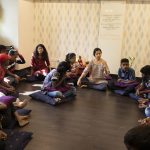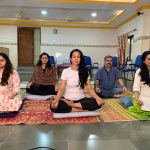 Interested In Our Courses?
Join our Newsletter for regular course updates