"Every child is an artist. The problem is how to remain an artist once we grow up."
– Pablo Picasso
We recently did a beautiful team art therapy exercise, lead by our therapist Kunjal Shah. As counselors, we often need to be in a space where we are empathetic and understanding towards others. Therefore, we need space to loosen up and work with our own feelings and inner world too.
The reason we took up art as a medium to work with ourselves was because of its tremendous potential to tune out the thinking left brain and to engage the emotional and creative right brain.
Following Kunjal's instructions, each of us mindfully drew a mandala, expressing how we felt in the role of a counselor. This was an individual activity. This was followed by a group art activity where we were able to express and explore ourselves as a part of the entire Inner Space team.
We are sharing some of the pictures and insights that came up during this activity:
 "At first, I was not too sure of what we were doing. But I found myself introspecting a lot while doing the art therapy exercise. I kind of knew I was expressing something that needed expression, but it was some emotion I was not being able to express very clearly in words. Kunjal asked us to work on the artwork till we felt satisfied with it. I couldn't feel satisfied until I drew a line breaking out of the Mandala circle. Later, when I thought about it, it gave me a loud message of breaking out/breaking free from certain thoughts I had chained myself into. I felt disturbed with that idea for 2-3 days after doing this exercise; but I am glad that the expression with the art therapyhelped me get in touch with this feeling I was unknowingly avoiding."
-Megha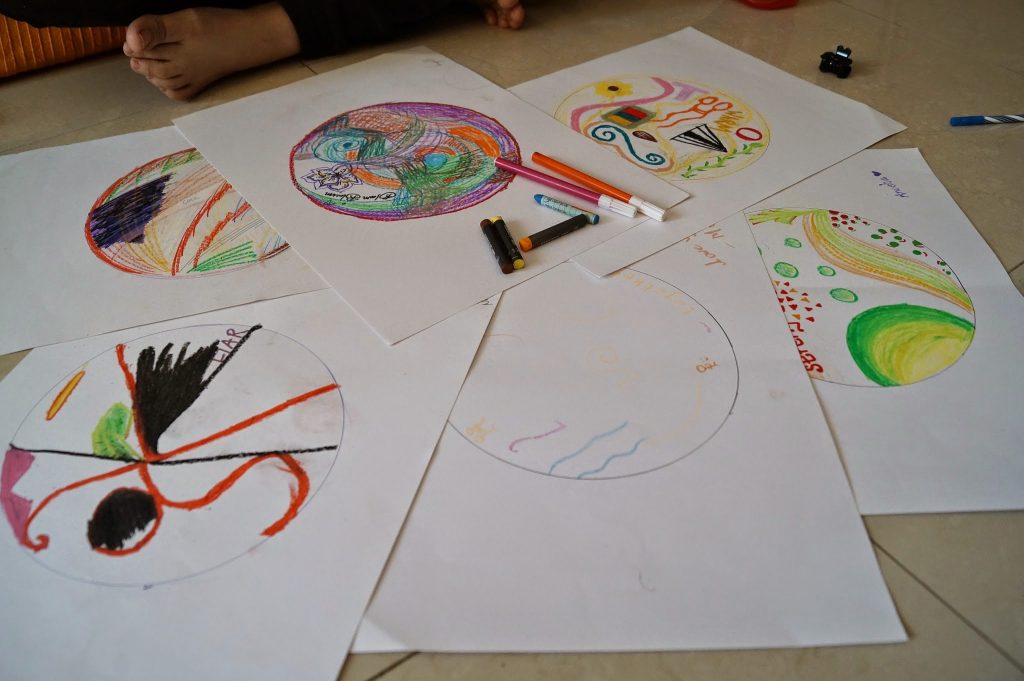 "In the beginning it was intimidating because I don't draw well at all. Then I  started to settle in it as I realized that it was meant to be my space.. I discovered that there was an intuitive pull towards certain colors. It felt cathartic while doing it. I also felt a sense of release. Later on, I felt a little light. Like after a chat."

-Malini
"It made me feel a new sense of freedom… something I wasn't aware of. Apprehension of paints became exploring with paints!"

– Nandita
"When I started out, I felt unsure but excited about using different colours and mediums to express on paper. My confusion ebbed away giving rise to various thoughts and emotions (pleasant and unpleasant) that I let guide me while I drew. The exercise was interesting and left me with a subtle sense of awareness about my feelings. It also gave me the space to express freely without getting overwhelmed by my thought and feelings at that moment."

-Anusha
Although I love design, interiors and clothes, one won't find paints or crayons at my place, not even a sketch pen. I remember not enjoying art classes in school. So when this group art therapy was suggested by Kunjal I had no idea what to expect, although, I loved the idea of all of us doing some activity as a team. The art therapy exercise to me was a very pleasant experience. No planning, preparing, no burden of drawing any shape, no predetermined objects to copy. It was freeing.  I could put my crayon or pen on paper and just let it do what it wished to. I really enjoyed mindfully picking up colours that seemed to resonate in that moment. The rest of the day following the art therapy felt as though I had gotten up from a very refreshing sleep. Now I feel I am the "mindful art" type 🙂
We found these activities immensely cathartic and enriching. Most of us initially felt apprehensive with drawing and painting but eventually found our own safe space. A mindful space where we felt free to express and reflect on the insights that we discovered. Thereafter, we realized the therapeutic benefits were so immense that we decided to have a workshop for all of you 🙂
Know more about the Mindful Art: A Mindfulness and Art Therapy Workshop
Read more about Art and Mindfulness