Being a teenager can be confusing and difficult. Get the support you need to live a happier, healthier life with our online Teen Counseling services.

We are here for you.
If you fall within the age range of 13-19 years, you are a "Teenager."

This stage of your life, called "Adolescence," is a transitional stage between childhood and adulthood, and involves physical, cognitive, emotional, social and cultural changes. Managing these sudden transitions such as physical changes, changes in family relationships, friendships, responsibilities, and romantic relationships, can be quite stressful. It can also feel embarrassing to talk to someone about these issues.

We understand how challenging this stage can be. Therefore, our online therapy for teenagers that we offer is designed to help you navigate through this stage with ease.
Concerns Teen Counseling Deals With
The ages 13-19 are period of rapid changes in your life. Rapid physical, emotional, and psychological changes can make it difficult to adjust, and can also result in some mental health challenges. 
Managing all these changes can be difficult and overwhelming. Along with these changes, there also lies the challenge of wanting to fit in with everyone, and feel independent. As a teenager, it can often feel frustrating when others fail to understand you and your need to be independent.
Sometimes, opening up to another person in the family can feel embarrassing. Talking about your issues with another person is great, but choosing the right person to open up to can be a challenge. 
Thus, online therapy can be an effective tool to help you manage the stress and anxiety that occurs during this stage. Some of the concerns we can help you with are:
Mental Health
Moving through multiple life changes with a rapidly changing brain structure is not an easy task. Thus, This stage may also  bring anxiety, depression, or other mental health concerns.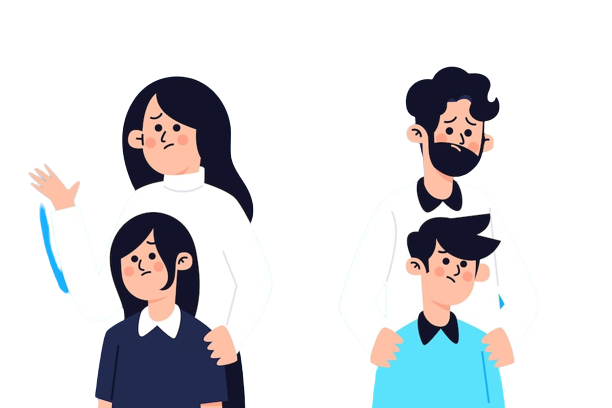 Family Conflicts
During adolescence you may sense that your parents are unable to understand you and your interests. This can give rise to some conflicts or disagreements at home.
Identity
Creating your own sense of identity by figuring out your likes and dislikes, and being accepted by friends and people around you can be overwhelming. 
Career Confusion
This stage also involves figuring out your career and educational interests. Choosing an option you're interested in may not be something that is "mainstream" or accepted by your family or people around you. 
Dating & Relationships
During this stage, you may find yourself feeling romantically attracted to people, or others feeling that way about you. This can bring a lot of curiosity, stress, and confusion within you , and you may find it embarrassing to talk about these feelings to another person or friends.
Friendships
At this stage, you may be interested in finding friends you're interested in spending time with. Figuring out the right set of people for you can also mean letting go of certain friendships. 
Peer Pressure
Often, you may feel pressured by your friends and peers to attempt something you're uncomfortable with. This could cause you to feel indecisive of whether to engage in what others are doing, or doing what you feel like. There may also be a fear of missing out or not being accepted if you fail to do what your friends tell you.
Managing Academic Stress
Teenage is also a time where you are constantly pressured to do well in school. This may bring a looming fear or worry over not doing well in your academics, and how it can impact your life and career ahead.
Body Image Issues
Due to the new physical changes in your body, you may feel the need to compare yourself to others around you. You may be curious about your body, but feeling the need to look perfect can make you look out for flaws in your body which can give you stress. This can lead to body-image issues and eating disorders. 
How Does Online Teen Counseling Work?
Online Therapy for Teenagers is conducted over the clients' preferred online medium, such as video conferencing services, or phone call. Irrespective of the medium, therapists ensure your safety and privacy while you use these services.
Easy access to more therapists and services
Ensured safety, confidentiality, and quality of services
Contact Us For Online Teen Counseling
Online Teenage Counseling can be a great opportunity for you to work towards creating a happy, healthy, and balanced life.

We are here for you.
Benefits Of Teen Counseling
Counseling is an important tool for assisting people in dealing with personal and emotional issues. It offers clients a safe and confidential environment to discuss their thoughts, feelings, and behaviours with a trained mental health professional.

Counseling can help you manage concerns such as academic stress, anxiety, body image issues, and other mental health concerns, as well as provide support during difficult transitions that occur during this stage.

All the Counseling services offered here at Inner Space are completely offered online.

Online counseling has the benefits of being convenient, accessible, confidential, and affordable. Therefore, it is a great option for those considering therapy.
How We Can Help You Find The Right Counselor For Teen Counseling
Our therapists are all trained psychologists qualified in helping people work through their difficulties. We work with individuals across different populations. We use an eclectic range of psychotherapies from solution oriented to insight oriented to holistic meditative approaches, depending on the need and comfort of the clients.
How To Book An Online Counseling Session for Adolescents With Inner Space
"What Our Clients Say about Our Online Counseling Services"
"This is the place where I found my peace. There was a time when I was in a bad space, with depression & anxiety. I really thought there was no way round until I started attending my sessions here at Inner Space counseling with Geetali ma'am. I am now at a point whereI can take care of myself. This place makes you truly independent." - M.B
"I've had the privilege of receiving therapy from Sadia (founder of Inner Space) for over five years, and the only words I can share are, simply, that I owe her my life." –R.C
"Through therapy, Shubhra has shown me a way to live in my body that I didn't know was possible. Shubhra taught me through somatic therapy or exercises on how to process trauma and reconnect to my body safely. I've learned how to monitor my nervous system to understand how I'm feeling and then consciously calm myself using love and care instead of negative coping mechanisms. She is patient and compassionate while being proactive and constructively challenging when she needs to be. She creates a safe space while engaging in the therapy, comes highly recommended and anyone would be blessed or lucky to work with her." - Rachel
I started consulting with Firdaus when I was in a very broken state of mind due to various reasons. In Firdaus, I not only found a compassionate ear but also practical strategies to help me deal with my anxiety driven behaviours and coping mechanisms. I've been given the tools to understand the things I need to work on in myself before I expect to see any real change in life. This has been an invaluable insight to me and one that I cannot thank her enough for. She's a very capable therapist and I've become a much more aware person thanks to her -A.I
"His technique is to guide us to see the picture and the road ahead, on our own, rather than impose his views. He is a good, patient counselor."
Need Someone To Talk To That Understands You?
Explore how therapy can provide a safe space to express your thoughts and emotions. We are here for you.
Want to gain perspective from a Mental Health Professional on your issues?

'Ask a Therapist' is a platform where you can ask Your questions related to Mental Health, Mindfulness & Emotional Well-Being to our team of qualified Therapists