Having depression can often feel isolating, exhausting, and daunting at the same time. Your journey through depression can feel easier with a little bit of help.

We are here for you.
Depression is a persistent feeling of sadness and hopelessness.

We all have our bad days where we feel sad or low. However, with depression, it may feel like your sadness or anger has no reason, and it can get difficult to enjoy things you used to like.

Depression can feel scary, confusing, and can make you feel like you are alone in this journey. We understand how depression can isolate you and feel like there is no silver lining. However, depression can be managed and treated by seeking professional help through counseling.
Depression is a complex condition that has a myriad of reasons causing it. There can often be a single defining reason behind depression, like a single traumatic event. For others, it is a mix of multiple factors, ranging from genetics, personality factors, to underlying medical conditions. 
Here are some common reasons behind depression:
Biological Factors
Depression can be inherited from your family. Having close relatives with,  or a family history of depression could indicate a higher chance of you having depression. 
Stressful Life Experiences
Significant shifts or changes in life can bring about stress, hopelessness, and can lead to depression. For instance, marriage, divorce, losing a loved one, having a financial crisis- these events can cause immense stress and depression. 
Childhood Experiences
Experiencing abuse and neglect from parents in childhood can put you at a higher risk developing depression. Other childhood experiences such as abuse and bullying can also increase your chances of having depresion.
Medical Conditions
Certain medical and physiological conditions such as hormonal issues, chronic pain, and other diagnoses can cause depression. 
Substance Use Issues
Substance abuse can worsen depression symptoms and people often use it to alleviate their depression symptoms. 
Personality Traits
Personality traits, or our nature, can also contribute towards depression. If you are usually a nervous person, or if you are prone to worry, or if you tend to be perfectionistic, you may develop depression. 
The symptoms of depression can show up in the form of physical, mental, and emotional symptoms. 
Your experience with depression can look completely different from another individual's depression. Therefore, seeking help through a counselor can help you identify your symptoms and start your journey towards overcoming your anxiety.
Depression manifests itself through a wide range of symptoms and behaviours. Depression can be a challenging, isolating experience for you. Managing the various physical, emotional, and mental symptoms requires professional guidance. Hence, Counseling is an effective tool to manage these symptoms by addressing the root cause of your depression. 
Physical Symptoms of Depression
Changes in food habits: Eating too much, or too less
Changes in sleep pattern: Sleeping too much, or too less
Random pains, body aches, stomachache, and headaches with no explanation
Anxiety, worrying too much about things that have happened or may happen
Crying excessively, or finding it difficult to cry
Tiredness
Mental and Emotional Symptoms of Depression
Feeling lost and hopeless
Feeling angry

Feeling like you loathe yourself

Finding it difficult to concentrate and pay attention to people and things around you
Difficulty in decision-making
Engaging in reckless behaviour
Having thoughts or engaging in self-harm or suicidal behaviours
Contact Us For Online Therapy For Depression
Online Counseling for Depression can be a great opportunity for you to work towards creating a more balanced, happier life for yourself.

We are here for you.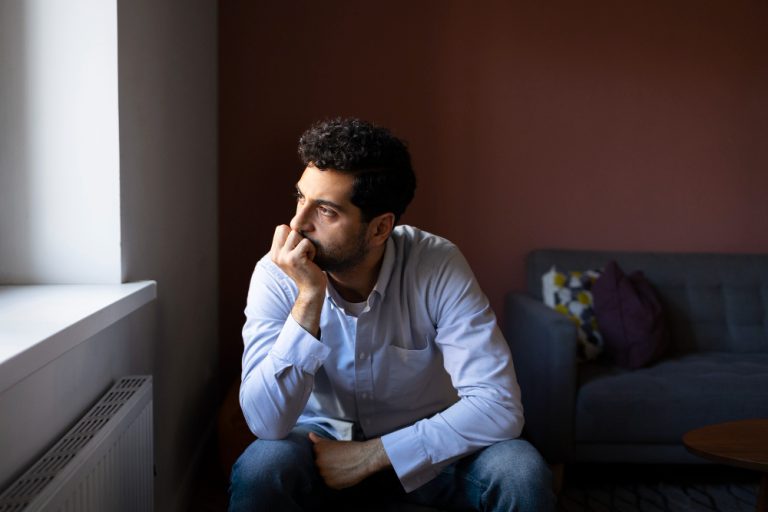 Benefits Of Opting For Therapy For Depression
Online Therapy helps you tackle depression in countless ways, primarily by managing your symptoms, and improving your quality of life. Some other noticeable ways therapy can help you are:


Providing you with a safe space to talk about your issues.
Gaining knowledge about your problems and addressing the underlying issues.
Offering you newer perspectives to your problems, and helping you identify negative patterns, thoughts, and beliefs that contribute to these problems.
Receiving non-judgemental support and help from a qualified professional

Some people may have recurring episodes of depression. Therefore, therapy can help you be prepared for such instances.
*Online therapy for depression is helpful if you do not have severe symptoms. If you are feeling actively suicidal or violent or are losing weight, having severe sleep deprivation and no motivation to live, then seeing a psychiatrist and meeting a therapist in-person is recommended. We also suggest you to reach out a Suicide Helpline Number.
How We Can Help You Find The Right Counselor
Our therapists are all trained psychologists qualified in helping people work through their difficulties. We work with individuals across different populations. We use an eclectic range of psychotherapies from solution oriented to insight oriented to holistic meditative approaches, depending on the need and comfort of the clients.
How To Book Online Therapy For Depression With Inner Space
"What Our Clients Say about Our Online Counseling Services"
"This is the place where I found my peace. There was a time when I was in a bad space, with depression & anxiety. I really thought there was no way round until I started attending my sessions here at Inner Space counseling with Geetali ma'am. I am now at a point whereI can take care of myself. This place makes you truly independent." - M.B
"I've had the privilege of receiving therapy from Sadia (founder of Inner Space) for over five years, and the only words I can share are, simply, that I owe her my life." –R.C
"Through therapy, Shubhra has shown me a way to live in my body that I didn't know was possible. Shubhra taught me through somatic therapy or exercises on how to process trauma and reconnect to my body safely. I've learned how to monitor my nervous system to understand how I'm feeling and then consciously calm myself using love and care instead of negative coping mechanisms. She is patient and compassionate while being proactive and constructively challenging when she needs to be. She creates a safe space while engaging in the therapy, comes highly recommended and anyone would be blessed or lucky to work with her." - Rachel
I started consulting with Firdaus when I was in a very broken state of mind due to various reasons. In Firdaus, I not only found a compassionate ear but also practical strategies to help me deal with my anxiety driven behaviours and coping mechanisms. I've been given the tools to understand the things I need to work on in myself before I expect to see any real change in life. This has been an invaluable insight to me and one that I cannot thank her enough for. She's a very capable therapist and I've become a much more aware person thanks to her -A.I
"His technique is to guide us to see the picture and the road ahead, on our own, rather than impose his views. He is a good, patient counselor."
Take The First Step Towards Healing Today!
If you feel you or a loved one may be experiencing depression, you can seek help by scheduling an appointment with our Therapists by reaching out to us through the links below.
FAQs for Online Counseling & Therapy for Depression
Want to know more about depression from a Mental Health Professional?

'Ask a Therapist' is a platform where you can ask Your questions related to Mental Health, Mindfulness & Emotional Well-Being to our team of qualified Therapists