In the capacity of a psychologist, Sadia has worked extensively with different populations over the past 22 years. She has worked therapeutically with individuals, couples and children.
Presently her work consists of managing the organization, creating customized programs for training organizations, facilitating mindfulness courses and retreats, curating and overseeing programs delivered by her team and providing therapeutic supervision to her team as needed.
She has participated in a TEDx conference where she was invited to give a talk on Mindfulness of Emotions. (You can watch the video below)
She has designed, developed, and facilitated several stress-management and emotional resilience programs for corporate organizations such as Microsoft, Mercedes, Oberoi group of Hotels, Motilal Oswal and GroupM among others.
Prior to Inner Space, she had a private practice and was a consultant at Karuna Hospital and a visiting child guidance expert at Sol's Arc (Assessment and Remedial Center).
She has also been a part-time counselor and advisor for several schools-both Regular and Special schools.
Sadia speaks English, Hindi & Urdu.
Sadia has worked with special populations such as with children and adults suffering from Juvenile Diabetes and HIV + orphans. She has also volunteered with Borderless World Foundation, an NGO working with orphaned girl children in Kashmir.
Sadia has been involved in working therapeutically with as well as creating mindfulness-based courses for children of commercial sex workers.
She has been a visiting teaching faculty for psychology in Nair Hospital- Department for Physiotherapy and in S.N.D.T University- Department of Nutrition.
Over the years, she has attended various courses to further her understanding of psychotherapy, such as those based on Integral Somatic Psychotherapy, Neuro-Linguistic Programming, Reality Therapy and Mindfulness Based Stress Reduction (MBSR).
She has attended trainings with Rick Hanson in Australia in both his key projects, 'Buddha's Brain' and "Hardwiring Happiness", both of which are based on the neuroscientific understanding of mindfulness.
A Mindfulness &
Self-Awareness Guide
By Sadia Saeed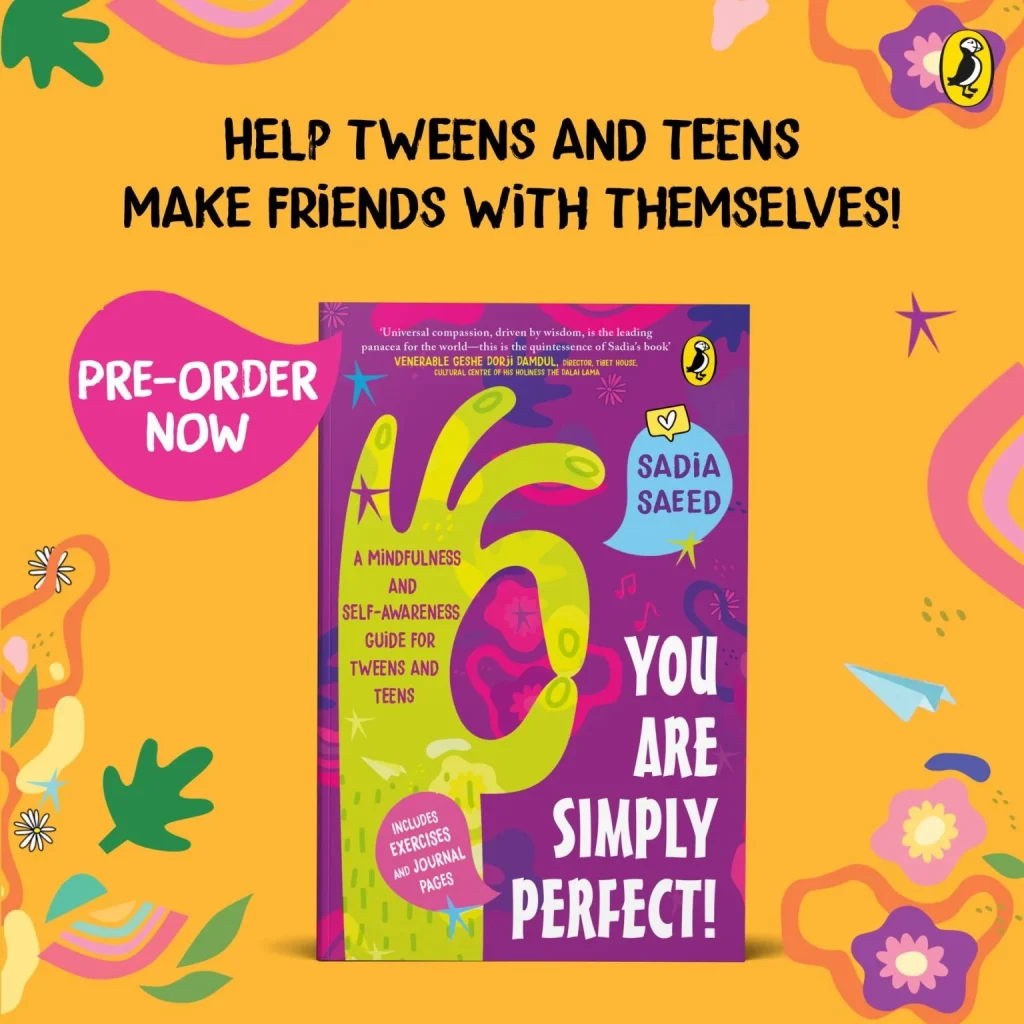 This book is written with an intention to help young people adopt perspective and practices to live life joyfully, to initiate valuable learnings from Indian wisdom traditions early in life and to avoid learning unhealthy patterns that will lead to mental health difficulties later.
Speaking on Mindfulness of Emotions at TedX
Speaking at the Mindful Leadership Summit
Sadia completed her graduation in Psychology, from St. Xavier's, Mumbai and her Masters in Clinical Psychology, from Mumbai University. She has also done a number of courses to deepen her knowledge of psychotherapy and mindfulness. Some of them are:
Mindfulness and the Brain: a course on neuroscience of mindfulness (Australia)
Mindfulness Based Stress Management
Integral Somatic Psychotherapy
Neuro-Linguistic Programming
Sadia Saeed
Founder, Mindfulness Trainer & Psychologist
"I've had the privilege of receiving therapy from Sadia (founder of Inner Space) for over five years, and the only words I can share are, simply, that I owe her my life." –R.C
Sadia Saeed
Founder, Mindfulness Trainer & Psychologist
I personally have been shaped by Sadia di's wisdom, compassion and love. I have struggled a LOT with mental health issues over the years. Sadia di has been strict when needed and gentle otherwise. She did not only help me heal in therapy but also equipped me with tools to work through difficult emotions in everyday life through her mindfulness sessions. -S.K