You know or have heard at some point that art is expressive; it is creative. What you tend to miss out on is that art helps you connect not only to your inner world but also to the outer world. Like Elinor Ulman says:
"Art is the meeting ground of the world inside and the world outside."
At Inner Space, we have tried to explore the immensely therapeutic nature of art in different ways. Group Art Therapy sessions is one such way. Starting from January, 2015, these sessions take place once a month at our center.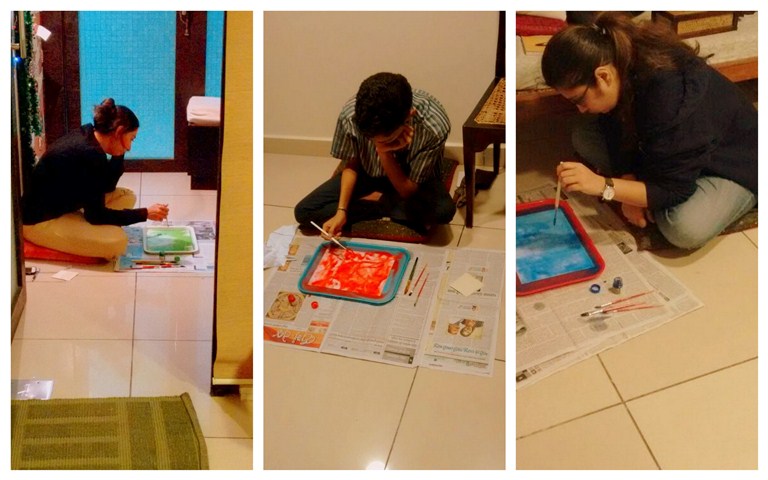 (Group Art Therapy Sessions at the Center: Exploring with Watercolours)
Through your art, you will learn to deal with often confusing and complex emotions that are difficult to speak about verbally. We feel a therapeutic group setting provides a safe, non-judgmental space for the same. Moroever, with the guidance of the facilitator, experiences shared by members of the group help to build a supportive and encouraging environment where you feel free to express, through art or otherwise.
These art therapy sessions are open to everyone. Anyone who would like to work with art as a means of exploration is welcome to attend.
Read more about: What is Art Therapy? 
Art Therapy Sessions- Details:
So, while you create something that is an expression of you, these group art therapy sessions will include space for mindful introspection, reflection and discussion of your experience with the facilitator and the group.
Date: Last Wednesday of every month
Timings: 7:30 pm to 9.00 pm
Fee: 1200 ( Inclusive of Art Material)
Venue:  Inner Space Counseling Center, Office No. 40, 1st  Floor, Evershine Mall, Chincholi Bunder, Link Road, Malad West, Mumbai- 64
(No prior experience of Art is required!)
Registration has to be done in advance as arrangements for art material to be made accordingly.
Please register here:
Kunjal, is a psychotherapist, with a practice of eight years. Along with psychology and mindfulness, art has been an important aspect of her life, although she has had no formal training in art. Her involvement with art comes from "time spent with paintings, lots of doodling in every inch of my school books, through weird nail art and little unusual ways to accessorize in college".
Of art she says:
"I find words are not always enough or efficient in helping express the inner experience. And when it comes to difficult emotions or situations or both, there are aspects of our mind that work against our own knowing. Inhibition-free but involved doodling, sketching, painting, and other forms of art, help assimilate problematic, emotionally difficult things; help us vent; and get the healthy and much needed release. Anything that's creative, that breaks known and used associations in mind is helpful. It's not just cathartic, I'm willing to bet, it makes our minds sharper. Plus it's fun!."